Dachshund Video - "THE WIENER DOG SPECIAL" is now available from SKYDOG VIDEOS at skydog.ca and short previews are also available on this site. dachshunds, sometimes called doxies, dachsies, daxies, sausage dogs or wiener dogs are the sweetest dogs on the planet so enjoy the photos and videos on this site.
SKYDOG SPORTS
Wiener Dog Photo Gallery
"NEW" Dachsie WebStars Five March 2003 Click Here "NEW"
Dachsie WebStars FOUR Photos - April 26, 2002 - Click here
NEW - " Wiener Dog Video " - Now Available - Click Here
DOXIE Video "CUSTOMER COMMENTS" Click Here
"FREE" Wiener Dog Videos Click Here
Click a Photo to Enlarge
| | | |
| --- | --- | --- |
| Bear - Oregon - 1995 | Bear - November - 1990 | Bear - London - 1992 |
| | |
| --- | --- |
| Bear - 1995 | " BEAR " The Flying Weiner Dog |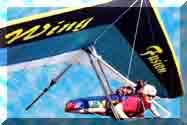 "Bear" Hang Gliding with Bob Grant - 1999
****************************************************************************
| | | |
| --- | --- | --- |
| | | |
| Flash - 13 weeks | Flash December - 1999 | Flash January - 2000 |
Flash Posing by The Thames River - London, Canada.

Photo by - Eric Walne of London, Ontario, Canada.

November 2000 and Flash is 16 Months old.

Flash Running on Oregon Beach - July 2000

Notice all Four Feet Off the Ground
************************************************************************
WIENER STORIES
THE ADVENTURES OF "BEAR" & "FLASH"
As Recalled By Bob & Maureen Grant
"BEAR"
We had been married ten years and I thought that a puppy was long over due so I started looking for a wiener dog as we both had been fascinated with them for some time. After finding a breeder thirty miles from our home, (Shirley Thompson) I made a visit and she had two of the cutest silver dapple doxies you could imagine. They were already sixteen weeks old and their colors were showing nicely and I was so excited and rushed home to pick up my wife and bring her to a surprise showing.
Well when we got there Maureen was excited with the pups but decided that she was not ready for the responsibility of a dog at that time so we went home and I was disappointed. Well, after sleeping the night we woke up and Maureen was crying, I asked why, and she said, we have to go and get that wiener, she needs us and I love her already.
Off we went to hopefully pick up the new wiener and sure enough she was still there. On our drive home, we noticed that our new puppy was terrified of road noise coming from the tires and of coarse Maureen cuddled her all the way home. When we arrived at our home we decided to call our new addition "BEAR" (Maureen's choice) and from then on is was a life full of "Bear" and her antics.
As we are somewhat sports active, Bear had a place in all of our activities. First off I made a wicker basket for my bike and Bear would ride in there enjoying the scenery and only once tried to jump out after a wild animal in the park. We took her with us on our water skiing adventures and Bear even rode on the surfboard with me. bear enjoyed going with us windsurfing because that was her chance to go swimming and swimming was bears favorite activity. She could swim for at least an hour straight chasing sticks and we took her daily in the summer months. Hang gliding was also very enjoyable for Bear and she loved running in the fields and mountainous spots we would go. One time when I was launching off of a sheer cliff, Bear charged after me and fortunately only fell about ten feet into some bushes on the steep incline and our friend Eric was able to get her back to safety. We took Bear on our many trips to Oregon and Florida and she was a great traveler, usually hiding under a blanket to avoid the road noise.
Now Bear has passed on and we are so sad living without her. We have so many wonderful memories of the good times with her and will always have Bear in our hearts.
*******************************************************************************************
"FLASH"
Now we have a new wiener and we call him Flash due to the fact that he is very quick on his feet. We were able to purchase Flash from breeder (Ted Cameron) and we drove through a blinding snow storm 65 miles to pick him up. Flash is a black & tan 12.5 pound beauty.
I will always remember that first night with Flash as he was extremely happy to be with us and kept me awake most of the night wagging his tail and licking my face. I had never seen a pup so happy and of coarse that made us feel very good. We often think that we should have called him Dickens as he gets into everything and is a real handful. When we first took Flash for walks he would start squealing if another dog came into sight and was simply terrified of other dogs but now after a year Flash has learned to play well with them and even stands up for himself when necessary.
Flash has always had a lot of extra energy and one hour walks did not appear to tire him out at all so I decided to try riding my bike while Flash would trot along side and now have made a habit of riding with him for four miles each day. We generally average a speed of six miles per hour and Flash is capable of short spurts of seventeen miles per hour. That little Dickens can really run.
WE have taken Flash on long trips, first to Florida - 1200 miles and then to Oregon 2800 miles and he is a pleasure to travel with.
******************************************************************
Final Resting Place Markers - Handcrafted by Bob Grant
CLICK HERE to see Final Resting Place MARKER PHOTOS
**********************************************************************
NOW !! The Wiener Dog Video on C/D - Only $9.95
DOXIE Video "CUSTOMER COMMENTS" Click Here
Click on the Link Below for Lots of Photos
Wiener Dog Photos - British Columbia Canada - Large Site