kayak photos, kayak videos, kayak stories, kayak specialties, nova craft canoe, nova craft kayaks, Necky kayaks, kayak accessories, kayak instruction, kayak guides, USHGA member, voodoo kayaks, seaward kayaks, perception kayaks, northwest kayaks, heritage kayaks, ocean kayak, cobra kayaks, islander kayaks, guillemot kayaks, all at skydog kayaks
SKYDOG SPORTS KAYAKS
NOTICE July 24, 2018
Skydog Sports No Longer Offers Kayak Trips
Enjoy the Splendour and Excitement of
South Western Ontario's Rivers
Free Online Video Available - Click Here
We have Kayaked many of the rivers near London, Ontario, Canada and would be only to happy to share our experiences with other Kayak enthusiasts and beginners.
" THE THAMES WEST "
One of our favourite trips is the one from Springbank dam here in London heading west to Killworth bridge which is about five miles and usually takes about two hours depending on water levels and how often we stop for photo opportunities. If we want to go a little farther, we can end up at the Komoka bridge which adds another hour onto our trip and then for a lengthy run we can continue to Delaware which usually ends up being a 4-1/2 hour trip.
The most scenic section is the first one which has high cliffs in many areas and about six different rapid sections, the last being the largest at Killworth bridge. We usually encounter many bird species, turtles and if you look closely you will see the occasional fish and for the first time, in 2004 we saw two groups of deer feeding near the water. We usually see a few Blue Herons which sometimes lead the way for us.
This is a very relaxing trip that beginners can feel comfortable with as well as getting the experience of small rapids.
If you look through our photo pages, accessed from our Kayak Main Menu, you will see why we are so excited about what we have to offer on The Thames. It is truly amazing!
Take a Friend and Be Safe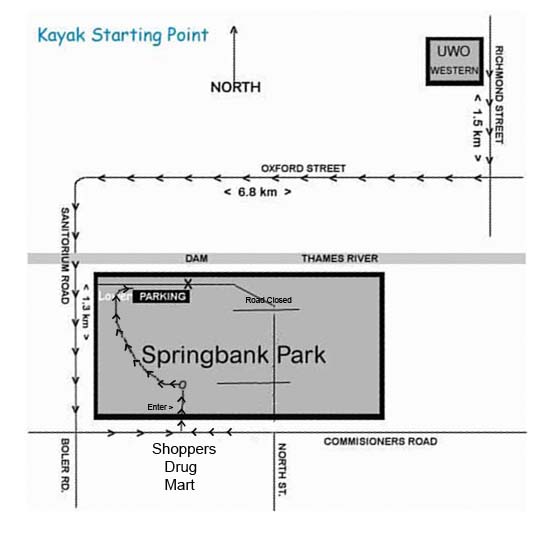 Follow arrows to parking area - (Launch Area)
Written driving instructions to our launch site in Springbank Park -
Starting either from Richmond Street or Western Road which turns into Wharncliffe Road continue south until you come to Oxford street, turn right or west and continue 6.8 kilometres to Sanatorium Road, turn left or south and continue over the Thames River bridge keeping to the left 1.3 Km and turn left onto Commissioners Road and travel .2 Km to the first park entrance across from Shoppers Drug Mart, turn left into the park and follow that road left then right down the hill and along the river to the dam parking lot.
Personal Training by Our Knowledgeable Staff Teaching
Basic Strokes and Concepts. Eskimo Rolls and many Playboating
Moves Like Stern Squirts, Double Pumps, Front Surf,
Back Surfing and Many More Fantastic Moves.
Strokes and concepts
forward stroke- efficiency in using torso rotation
Reverse Stroke
Front sweep
Reverse sweep
Draw stroke, open face ,close face
Compound strokes,
Maintaining spin momentum
Eddy turns and peelouts
Ferrying and attaining
Our Focus is on Safety and Fun
Kayaking Comments
Hi Bob,

I was part of the Monday group (Crown School) you took kayaking last week
in London with Neville and Jennifer. Thanks a lot for the experience...it
was lots of fun...especially the rapids!

Harutyun
********************************************
Thanks so much for the enjoyable 3-hour trip down the Thames River. My daughter and I really enjoyed the adventure --- especially the rapids. The scenery was just great. It seemed like we had gone into the wilderness but we were only a short distance from the city.
You are Invited to Join our New Yahoo Group
LONDON KAYAK CLUB DIGEST
It's FREE
To Join - Click The link below and send E-mail to -
Subscribe - Kayak-London-Canada-subscribe@yahoogroups.com
**************************************************
LONDON KAYAK CLUB DIGEST
Hello Kayak enthusiasts:

Southwestern Ontario, Canada is surrounded by some of the most
awesome open water in North America and home to a great many small
lakes and river systems suitable for kayaking.

The purpose of this club is to connect Southwestern Ontario Kayak paddlers,
share tales of our experiences, organize events, learn coastal kayak
navigation, swap tips on gear, and have fun. A great place to plan
Kayak trips and organize group trips. The majestic Thames River runs
directly through London and offers wonderful, scenic Kayak trips. Join
now and share your experiences.

I am setting up this Yahoo message group so that we will all have a
place to arrange upcoming trips and share our stories of Kayak
experiences. I do hope that you will join us.
This Yahoo group has a section for you to insert photos into and I
have started by inserting a few so please add to the photo section as
soon as you can.

When you join any Yahoo group, you have the option to receive
individual e-mails or a daily list of e-mails in one packet or you
can opt to read the group e-mail on the group website so that you
would never be burdened with having to many e-mails coming in. I
prefer the daily method and that way I only receive one group digest
e-mail each day.
Please give it a try. Moderator - Bob Grant
It's FREE
You are Invited to Join our New Yahoo Group
LONDON KAYAK CLUB DIGEST
To Join - Click The link below and send E-mail to -
Subscribe - Kayak-London-Canada-subscribe@yahoogroups.com
**************************************************
All FREE Kayak Online Videos - Click Here
Cool 30 Minute Kayak DVD Now Shipping Only $9.95
FREE Kayaking Canada Online Video Preview Now Available - Click Here
Nova Craft Kayaks Info Page - Click Here