Skydog Sports
Windsurfing & Kite Boarding
2014
The Skydog Report
Saturday October 25, 2014
The wind report was good like SW 20 to 28 mph so arrived at Rondeau at 10:30 to find I was the first but soon Rom Ossowski pulled into the parking lot. The wind looked like it would be good for a 6.0 and we set up. Ken Adderman showed up a half hour later and les Squires and Don and Annabelle Ferguson and Steve Wallace and Mereck pulled in around 1 pm. Rom and I were on the water for two hours before the rest and I did some video filming of Rom. The wind was ssw for the first hour but went to wsw after an hour or so and it was up and down but I did OK on my 6.3 Ezzy sail and Rom on his 6.0. Les set up his 4.2 and Steve set up a 6.0 and we had a great afternoon and I was filming. I have some good video of most but I seem to have missed Ken but will get him next time. I was getting tired around 3:30 and packed up as Les was still on the water having a good time.
Photos Below
| | |
| --- | --- |
| | |
| Rom Ossowski - 6.0 Sail | Mereck - New Wetsuit |
| | |
| --- | --- |
| | |
| Les Squires - Lunch Break | Les Jumps |
Steve Wallace, Bob Grant and Rom Ossowski After Some Great Sailing
The Don Ferguson Report
Monday October 20, 2014
Up and at Rondeau Bay by around 9:45! Andre has his kite ready and is just about ready for a launch, good thing I showed up!
Get him out on his 7M then it's my turn rig up 6.0 and ready to go. Ken Schmitt pulls in and rigs 6.5!
I am out on the water for nearly 2 hours at times very fully powered at others a bit lame but never for very long! Starting to back off by around 1 pm so time to pack in and say goodbye to a pretty good session, although it's never long enough!
The Don Ferguson Report
Friday October 17, 2014
Brooke and I arrived around 9:30 and Steve was out sailing what looked to be very powered up already, We tried to look in his vehicle at his sail bag to try to ascertain what sail size he was on but no luck (so remember for the sake of others always leave you sail bag label up!!) Anyway things looked like they were cooking pretty good so we were thinking 5.0 to 5.5. Once we began rigging Steve came in and said he was getting very powered on his 6.0 and was going to come down some, looking out over the water and seeing as it was seeming to generally get stronger we decided on 4.6 (buck, buck!!) Brooke was out first on a 5.5 and I (having to deal with contact lenses of course took a bit longer!) but I deciding to run 4.6, turned out to be a really good decision as I stayed on it the whole day, with minor adjustments more downhaul and outhaul at some points and less at others! Brooke did a few runs on the 5.5 and soon decided the power was way more than needed and came in to rerig to 4.5! ~ As did almost everyone else (Ken) Most impressive sailing of the day to me was Heather Arnold, Hung on to that 4.5 a lot of the time, nice smooth carving jibes and Steve Wallace that jibed on the inside near the dock in the worst backwash of the entire bay and still managed to pull some really sweet flowing jibes!! Next Ken Addeman honourable mention for hanging onto a 5.5 when I thought his arms would pull off!!
In attendance were Steve Wallace, Heather Arnold, Bob Grant ( a bit later), Ken Addeman, Russ Scorgie, Bernie Pepin, Brooke Murray and yours truly!! All in all a stellar day!
Photos Below
| | |
| --- | --- |
| | |
| Steve Wallace in Close | Heather Arnold Jibes |
| | |
| --- | --- |
| | |
| Ken Adderman and Heather Arnold on a Good Day | Kiter |
| | |
| --- | --- |
| | |
| John Smith | Steve Wallace and Bob Grant |
| | |
| --- | --- |
| | |
| Ken Adderman A Happy Sailor | O |
The Skydog Report
Wednesday October 8, 2014 and what a great day it was. I arrived at 9:30 am and was the first there. The wind looked like 17 mph from the west so I set up my 5.0 Ezzy and soon Don Ferguson and Brooke Murray arrived and they set up their 4.5 sails. I was getting the GoPro mounted as they went onto the water and they seemed to be doing well. Les drove in around 11 am and set up his 4.2 and Les and I got on the water around 11:30 and I chased them all trying to get some decent video. The wind was up and down with some wind up to 35 mph. I finally had to come in and switch down to my 4.2 and this time mounted the camera on top of the mast. I had it mounted earlier on the boom hoping to get others sailing close beside me. When I got out on the 4.2 it was just great although sometimes the wind would lull and I would sink but most of the time I was flying across the water with Don. Brooke and Les coming close a few times. Around 2 pm. Chris VanBoxmeer and Ken Addeman show up and get out with us. The wind was strong at 3 pm when I finally had enough and Don, Brooke and myself broke down and Les, Chris and Ken sailed on until 4:30. Unfortunately Ken ran over a big chunk of cement breaking his fin. we will need to mark that cement next spring. This has been one of the best days that we have had in a long time and the end of a five day windy stretch.
Photos Below
| | |
| --- | --- |
| | |
| Brooke and Don Discuss Size | Brooke Gets Started |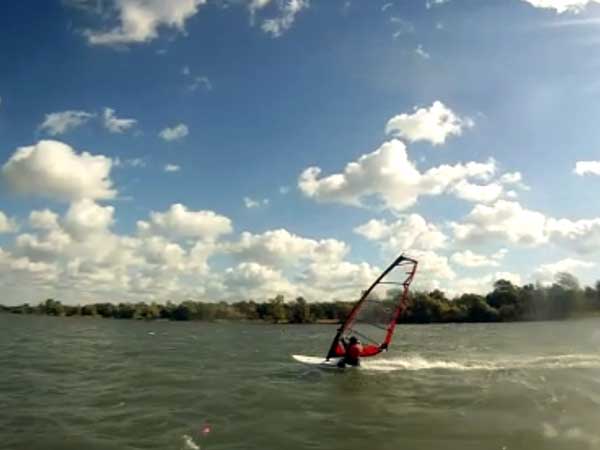 C
Brooke Screaming Along
| | |
| --- | --- |
| | |
| Bob and Chris | Don - So Fast |
The Don Ferguson Report
October 7, 2014
I got to Rondeau around 9:30 looking quite windy so I rigged 6.0 and ventured out for a great well powered hour long session but it seemed to be backing as 11 o clock approached so I came in for a bite to eat after which it seemed to back off even further to the point where even a 7.5 wouldn't help me so I contemplated packing up but noticed the windmills all around at a 4 second revolution, and I thought it must have domed or it just isn't down here yet. By twelve noon it appeared to be coming back in so I wondered back out hoping to have enough to at least plane out on my 6.0 but to my surprise I started planning up immediately and it just continued to get stronger and stronger until I began to fear I would have to go in and re rig but I held on for about an other 15 min and then it began backing again. By the time I came in and looked back over the water it had almost totally died again. So again another well powered hour session making the trip worthwhile. Time to call it a day and home to hot tub and cocktails!!
Tomorrow it is supposed to blow West there and even stronger wind cast than today at least at the moment!
The Skydog Report
Saturday October 04, 2014 Les called and said that Rondeau would be windy today so I packed up and headed out. Maureen thought that it would be to cold today. I arrived around 11 am. and found the wind was looking good for a 5.0 sail. I had Maureen's new Bic Techno 135 to try out so away I went. Les was on his 4.2 and we had a great day flying across the water. Maureen's new board is really nice and easy to sail. Ken Addeman sailed his 5.5 for at least three hours.
Monday October 06 looked good again and Don Ferguson was going so Les and I headed out again. I arrived at noon and the wind was very low like 5 mph and Don was setting up his 7.5. I wanted to try a new fin on Maureen's Techno so I set up our 6.3 Ezzy and around 1 pm the wind started to increase and Don was out getting some good runs but soon he came in to down size to his 6.0 and les set up his 5.0 and we enjoyed a couple of hours of hooting good wind which had switched to just west of straight south. By 3:30 the rain had started so we broke down and went home being satisfied with a good day.
Les told us that Ken and he sailed on Sunday as well and it was colder. Tuesday Don sailed again and had a great day and we are going again on Wednesday so this is a five day stretch of wind at Rondeau. Tuesday and Wednesday reports above.
I did not get many Photos as I wanted to get out there too.
| | |
| --- | --- |
| | |
| Les Squires Setting Up | Don Ferguson Racing To Get On The Water |
Les Heading For The Water
Maureen's Bic Techno Board
| | |
| --- | --- |
| | |
| Don Hanging On | There Don Goes |
| | |
| --- | --- |
| | |
| Don | Don and Les - Lunch Break |
| | |
| --- | --- |
| | |
| Don Taking a Break | Don 7.5 |
The Skydog Report
Saturday September 20, 2014 Les called and said that Rondeau would be windy today so I packed up and headed out. Maureen had to work today. I arrived around 11 am. and found the wind had not kicked in yet. I set up my 6.3 and by 1 pm the wind had picked up to about 18 mph so I went for a ride and it was real smooth right to the far side. I took two runs across and stopped for lunch. Don and Annabelle and Les and lots of other had been sailing and had come in for a break also. I went out again around 2 pm and Patrick Holman sailed with me for a couple of runs with his Kite and our speeds were very close. The wind had picked up to about 28 mph and the 6.3 was a handful for a bit. I continued until about 3:30 and noticed that the wind was dropping off so I broke my sail down and Les and Patti took me for supper at OJ and Mollies.
Photos Below
| | |
| --- | --- |
| | |
| Les Says That I Have Enough Photos of Him | Flash with Patti and Annabelle in Background |
| | |
| --- | --- |
| | |
| Don | Rom Ossowski Speeding |
The Skydog Report
Friday September 5, 2014 Maureen and I went to Rondeau Bay again. The forecast was for winds 16 to 24 mph and we were excited to get sailing again. Les and Don and all the regulars were there and Don was out on his 6.5 sail at 10 am. We set up our 6.0 and 6.3 sails and got onto the water by 11 am. I took a ride across the bay and Maureen stayed in close getting more secure on her Angulo board. Don let us try the Big Bic board and Maureen did well on it. We stopped for lunch and after that Maureen took a spin across the bay on her 9 foot Angulo that is likely twenty five years old now and we had a good run together although it was hard to water start on the far side but we finally got back. Maureen needs a 120 litre board to get her going better and we are looking into that, likely for next spring. We all had a good day of sailing.
Checking with Les Squires, who keeps a log of days sailed, it looks like Maureen has been to Rondeau six times this year and I have been there nine times. One of those days was not worth going but the others worked out well. Les has been out eighteen times so far in 2014 at three locations.
No Photos This Time
The Skydog Report
Tuesday July 15, 2014 Maureen and I went to Rondeau Bay for some good sailing. We had been there on Sunday and had a good time but no photos. The forecast was for west winds 17 mph gusting to 30 mph so we were hyped. Sure enough the wind was on shore and Don Ferguson and others were on 6.0 sails cruising the shoreline. we set up the 6.0 and 6.3 sails and Maureen went out on a Roberts board that les Squires had giver to us a year ago. I went out to take photos shown below and after an hour or so I took the 6.3 across the bay as the wind had switched to Southwest and it was sweet and close to overpowered. The morning west winds were pretty gusty but the southwest later on was smooth. Lots of good sailing and all sailors were tired by the end of the day.
Photos Below
| | |
| --- | --- |
| | |
| Don Ferguson - Lunch | Don Speeding |
The Skydog Report
Tuesday July 1, 2014 Maureen and I went to Rondeau Bay for some good sailing. The forecast was for southwest winds 19 mph gusting to 29 mph so we were hyped. I had been at Rondeau a few weeks earlier and had a few good runs and after 2 hours I was beat. Today was Maureen's first time in a couple of years and she was apprehensive but persevered and got some good practice in. Les Squires, Don and Annabelle Ferguson and others were also enjoying the great winds which finally built up to 30 mph. I took my last run at 6 pm and it was full tilt on my 6.3 Ezzy sail.
Maureen Grant - London, Canada - 5.0
| | |
| --- | --- |
| | |
| G | Les Squires - Strathroy, Canada |
| | |
| --- | --- |
| | |
| John Pierre and Maureen | Maureen |
| | |
| --- | --- |
| | |
| Maureen Grant and Les Squires | Maureen |
Rob Hewitt and Don Ferguson