Paragliding video and photos, Hang Gliding Videos and Photos, Wiener Dog Videos and photos, New "THE BEST OF PARAGLIDING" video, New Book "HANG GLIDING SPECTACULAR" 2001, Hang Gliding Specialties, Hang Gliding Tandem rides, Hang Gliding instruction, Hang Gliding Links, Hang Gliding weather links, all from Bob Grant. (Skydog) Bob Grant has been a United States Hang Gliding instructor and observer. Bob Grant is a USHGA member and a Wills Wing Hang Glider pilot, Read The OZ Report by Davis Straub for Hang Gliding News Daily. Link to The OZ Report, THE BEST OF HANG GLIDING video, Wiener Dog Photos, Flying Fun, Our friend Francis Rogallo, Get it all from SKYDOG - Bob Grant.
SKYDOG SPORTS
CLOUD 9
Labor Day Weekend
2001
Photos Below
Labor Day weekend - 2001 at Cloud 9 Sport Aviation Aerotow club near Lansing Michigan was a blast with wonderful weather starting Friday and continuing through Monday.
Some pilots arrived at cloud 9 on Friday and experienced challenging light thermal flights. The majority of pilots arrived on Saturday and we were blessed with exceptional thermal conditions to near cloud base at 5000 feet.
Larry Wright of Columbus Ohio conquered the best flight of the day by staying in the air for well over four hours and flying his second flight on a new Wills Wing UltraSport stayed high above everyone most of the time.
Tracy Tillman, owner of Cloud 9 towed pilots in the early session including his wife Lisa Colletti who also got very high and travelled away from the field and back a number of times. I usally try to keep up to Lisa as she is a great pilot and usually is near the top of the stack. While the thermals were still cooking, Lisa landed in order to let Tracy have a go at the great conditions on his new Wills Wing Talon and sure enough, Tracy was very high and hard to catch.
To say the least, Saturday was an exceptional day and all the pilots, most of who are in our photo line-up below had a wonderful time.
On Saturday evening, airline pilot, Dave Peters and family who live near Cloud 9, asked many of the pilots if they would like to try water skiing Sunday morning. Only Maureen and myself showed up at Dave's cottage at 8:30 AM for a fantastic morning of skiing and then back to the tow field for another great day.
Sunday was another beautiful blue sky day with somewhat more challenging conditions. Pilots started towing to 2500 feet around two o'clock and again Larry Wright showed his superior flying skills by staying up for more than one hour. A few other pilots made close to one hour flights but most ranged from twenty to thirty minutes. I took advantage of the light conditions and took three flights doing a series of wingovers on my way down. After another wonderful day of flying it was time for the students to get their first taste of Hang Gliding which produced many wide smiles and one of the young ladies was so excited that she just couldn't stop giggling throughout her flight and for some time after. This is one of the great treasures that instructors like Tracy and Lisa behold - making so many people very happy.
In the evening at Cloud 9 many gather in the recreation centre to play pool or ping pong or just socialize and tell the many stories of the days excitement.
Monday was another pretty day but a little more windy than most of us would have liked so most pilots packed up their gear and headed home.
It was great seeing Mike and Marg Boska who now live near Omaha Nebraska and who made the long drive to be with their old friends.
We all had a great weekend of flying and socializing with our many old and new friends.
Check out the Photos Below
If there are any changes needed in the captions, Just let me know, Thanks, Bob Grant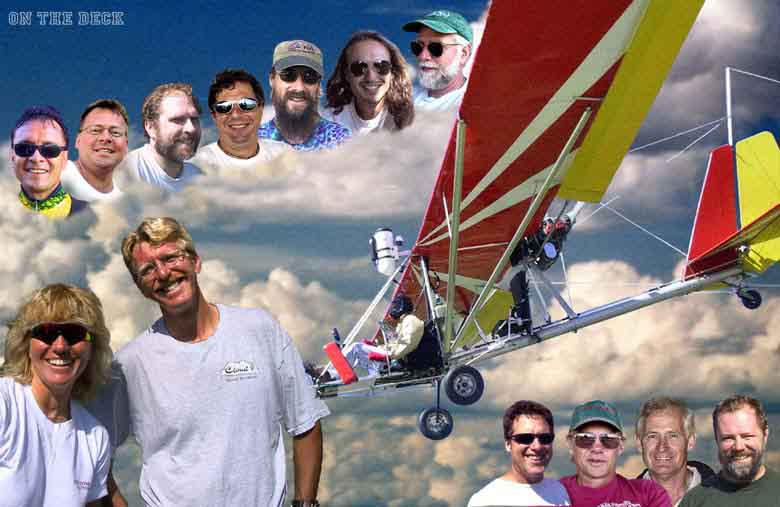 Maureen Grant's Graphic Assembly From Fourteen Photos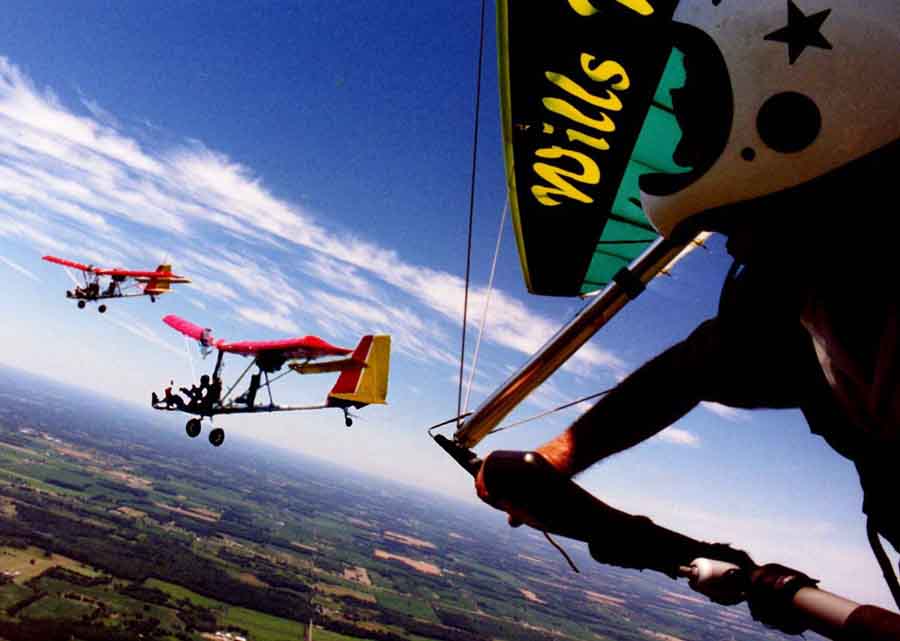 Tracy & Lisa Doing a Fly-by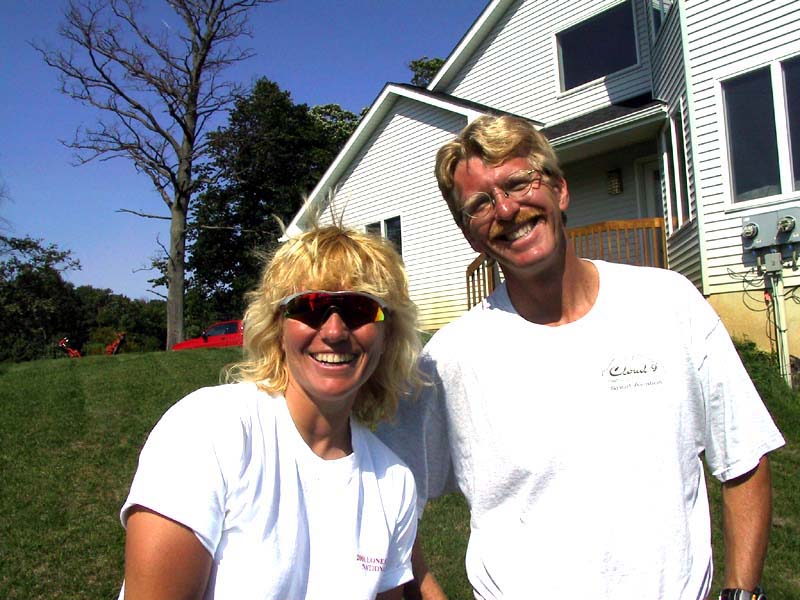 Lisa Collettti & Tracy Tillman - Owners of Cloud 9 Sport Aviation
| | |
| --- | --- |
| | |
| The Gang | Shawn Carrol |
| | |
| --- | --- |
| | |
| Bernie Spring | Bob Grant & Flash Wiener Dog |
| | |
| --- | --- |
| | |
| Guiness Boska | Riley Agudelo |
| | |
| --- | --- |
| | |
| Alex Bratsis And Flash Wiener Dog | Alex Bratsis "The Flyin Kid" |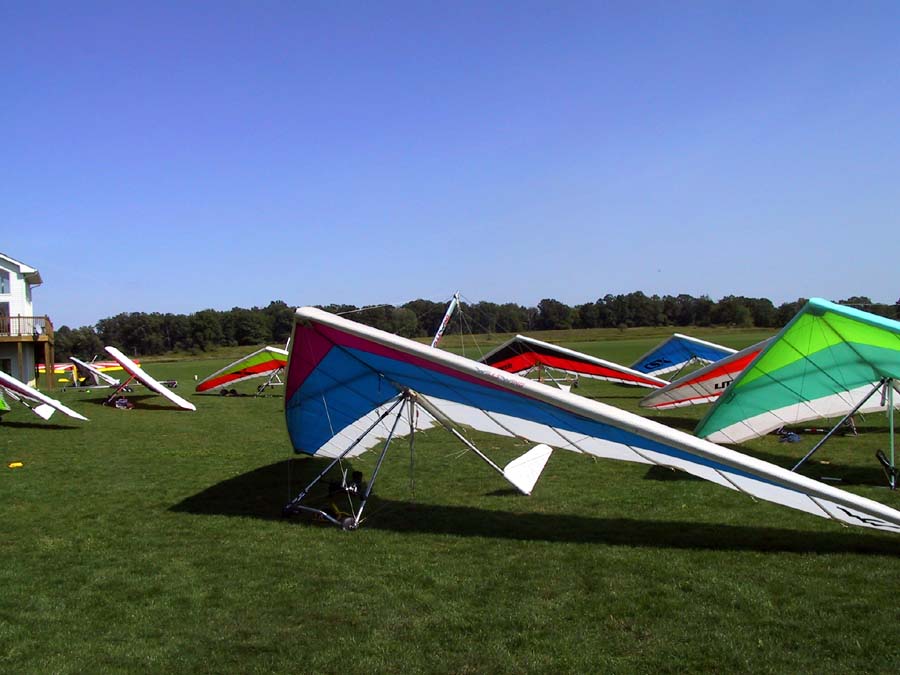 The Gliders Set Up For A great Day Of Flying
| | |
| --- | --- |
| | |
| Dragonfly Approach | Eddie Bectelhiemer - "Launch Director" |
| | |
| --- | --- |
| | |
| Gina Gandolfo | Jim Dedes |
| | |
| --- | --- |
| | |
| Larry Wright | Linda Wright |
| | |
| --- | --- |
| | |
| Dan Maslanik (Guido) | Dan Walker |
| | |
| --- | --- |
| | |
| Tracy Pilots Dragonfly | A Group of Happy Pilots |
| | |
| --- | --- |
| | |
| Mark Dugan | Raymond Sulin |
| | |
| --- | --- |
| | |
| Mike Boska | Marg Boska |
| | |
| --- | --- |
| | |
| Steve Warren | Rick & Riley Agudelo |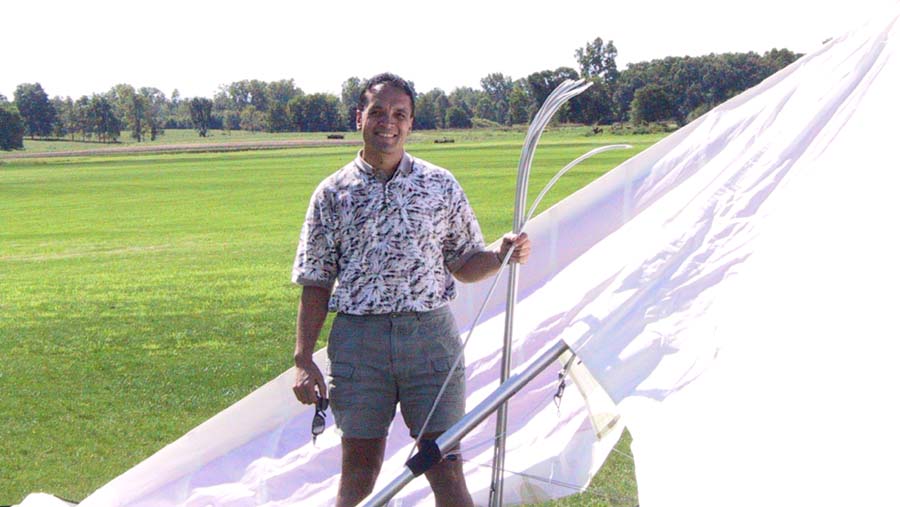 Raymond Sulin Setting up
| | |
| --- | --- |
| | |
| Maureen Grant - "Photographer" | Bob Grant |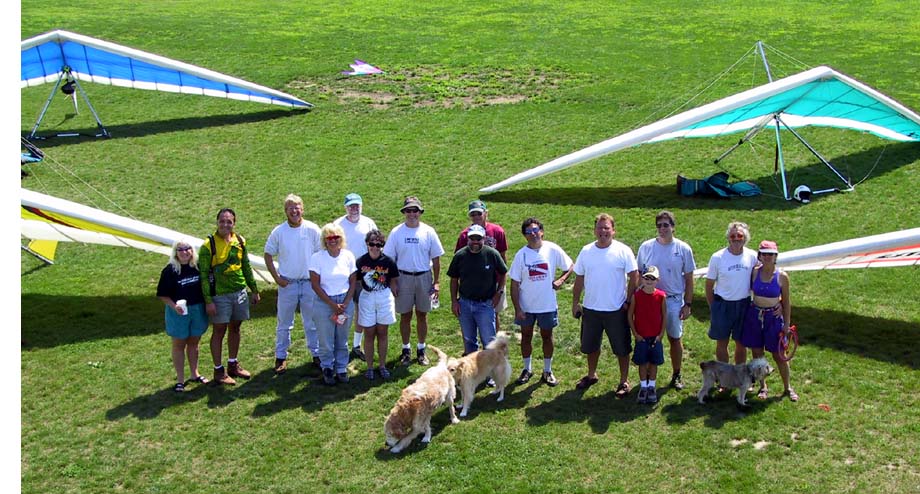 Cloud 9 Labor Day Group Photo By Bob Grant
| | |
| --- | --- |
| | |
| Students & Nelson Gilbert - Right | Bob Grant Flying The Friendly Skies - Cloud 9 |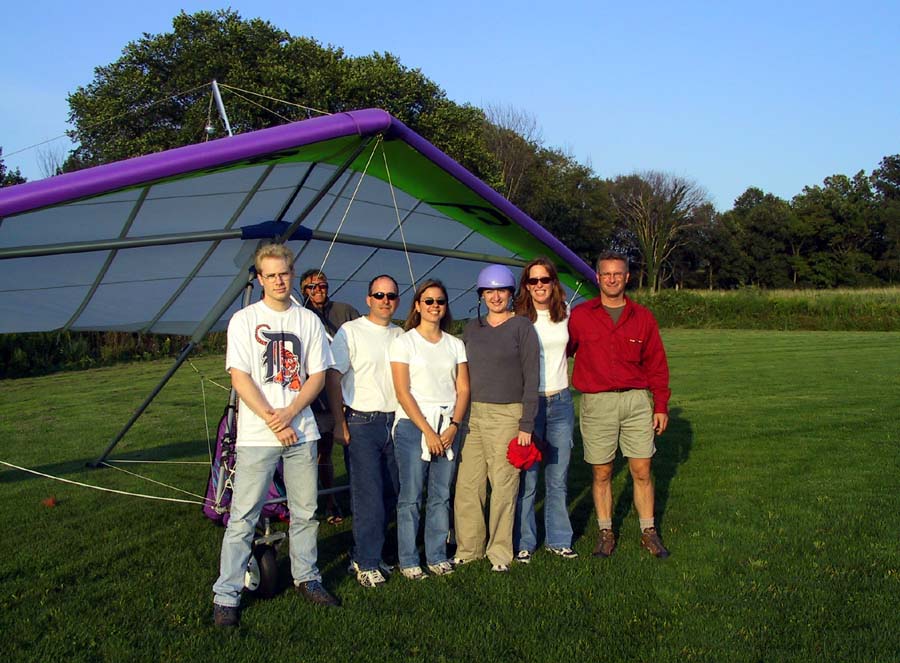 Students Getting Ready For Tandem Flights
| | |
| --- | --- |
| | |
| Alex Bratsis | Chris Bratsis |
| | |
| --- | --- |
| | |
| Mike Boska Sets His New GPS | Fish Eye Shot |
Ron Rohde - First Solo Flight
Cloud 9 Student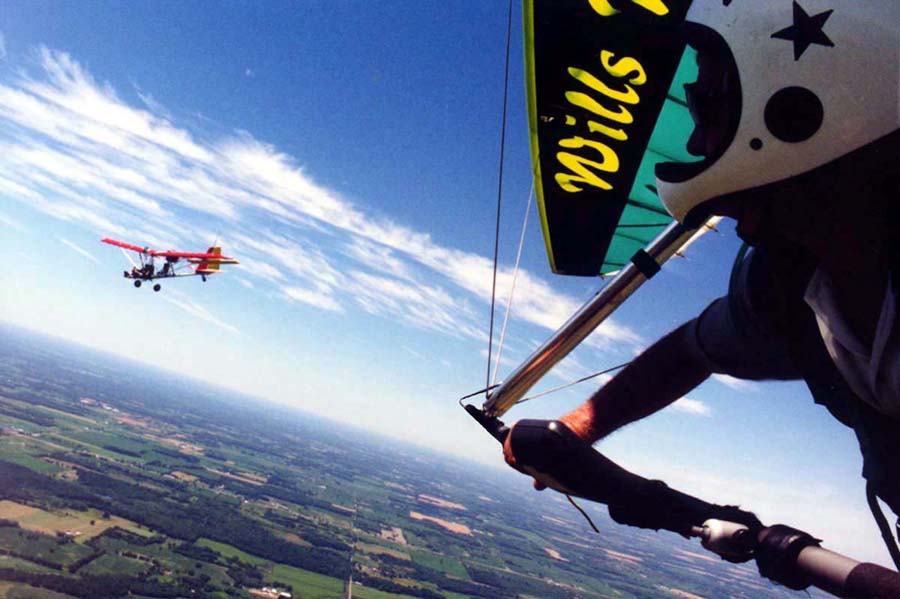 Lisa Flies Dragonfly in Close
Sorry if I Missed Filming Some of You
If you have a Photo that you would like on this page
Please E-mail it to me and I will be Happy to Insert it Here